• Shockmount cases are rugged, heavy duty EIA Standard 19" cases. They come standard with an inner shell cradled in 2" foam, heavy-duty front & back rack rails pre-tapped (10-32), recessed hardware, 3.5" heavy duty casters (2 with brakes), front and back removable lids each with a recessed padlockable secure latch. They are designed for popular electronics including computers, displays, sound systems, simulation, testing components and more.
Below are our standard shockmount shipping cases ranging from 3U to 30U. Standard case color is black, other colors are available upon request. We have several options available to meet any requirement such as accessory pouches, drawers, and shelves etc.
The Shockmount shipping case to the right is shown with Wilson Case optional Turf Tires™. Our standard Shockmount shipping cases include 3.5" heavy duty casters (2 with brakes). The Turf Tire™ is one of many options to add to our Shockmount cases.
If you do not see what you require on this page, contact us we can meet your need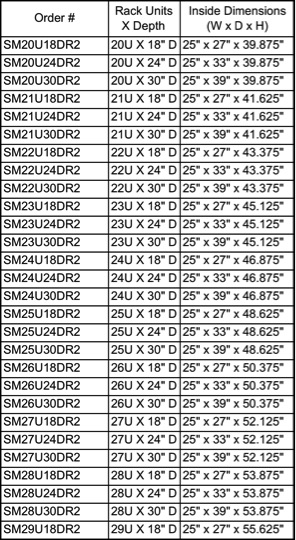 Wilson's Shockmount Case System